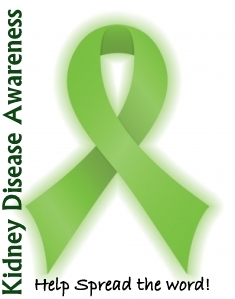 #KidneyDiseaseSucks
April 25, 2019, started out as a normal Thursday. I had no idea that by the end of the day my whole world would be turned upside down.
I had been recently diagnosed with high blood pressure (a broken blood vessel in my eye twice in two months had me going to the doctor). Normally, I avoid doctors. I've always been healthy and didn't see the need to be seen for every little sniffle so it had been about four years since I'd had any blood work done. Big mistake. I had been to the doctor on Tuesday for a follow up after starting blood pressure meds and she told me one of my numbers was high and to go next door to the lab and have another blood draw. I was advised to drink only one soda a day and to drink WATER (ugh) but I did it.
Thursday, I get a voice mail from the doctor while I was at work to call them. I'm standing in line at the pharmacy to pick up a refill on my blood pressure meds when I call them back.
"We've been trying to get you in with a nephrologist today but haven't had any luck. You need to go to the emergency room now."
Yikes! I turn around and head out of the store as I call my husband and tell him I'm picking him up and we're heading to the ER. I had no idea how bad it was. Turns out my creatinine was extremely high, an indicator that the kidneys are not working as they should. My potassium was extremely high as was my Bun # (blood urea nitrogen). After Ibuterol and some other treatments in the ER, they got my potassium down to a safer level. High potassium can damage the heart. I ended up in the hospital as they monitored my levels and my heart. Friday morning, I was visited by the nephrologist on call and was told that I had Stage 4 Kidney Disease and would eventually need a transplant.
My mind whirled. Kidney disease? But I don't feel sick? That can't be right.
I was sent home on Sunday with an insane list of dietary restrictions – low sodium, low potassium, low phosphorous, and low protein along with a new blood pressure med. I'm to avoid most dairy, chocolate, nuts and nut butters, whole grains, avocados, spinach, dark sodas (including my favorite Dr. Pepper), and a bunch of other things. I can have white bread, white rice, and most vegetables. It's been hard but I'm doing it. It sucks. I can't even have a decent taco. Hubby has been working on substitutions for some tasty meals. The first attempt at pizza kinda sucked but the second one turned out a lot better: hamburger instead of pepperoni, olive oil and garlic instead of tomato sauce, and vegan "cheese". It was tasty and gave me hope that I could do this as long as I need to.
Then, after more testing, including a 24 hour urine collection, it was determined that I am actually in Stage 5 and need to go on dialysis. I have an appointment with a surgeon tomorrow to get scheduled to have a cath placement for in-home dialysis. I'll admit, this scares me. How will I feel? How can I live a normal life and be on dialysis?
My life is changed forever.
Follow along with me as I navigate my new normal with my blog posts – #KidneyDiseaseSucks, my journey through dialysis and beyond.